Are you all set to get your groove on?  What's more fun than throwing a 60s themed event!
A 60s event makes a great party theme! This is an age of loads of colors, returning to nature and "letting it all hang out".
Throw up a peace sign, amp up the flower power, celebrate the decade of the Beatles, Laugh In, and Woodstock and follow our guide for everything you need to plan a 1960s themed event for all of your free-loving, hippie friends, and people who love celebrating life and dancing with it.
60s Decoration
And there was light! Lighting is crucial in setting the stage for your '60s themed event.  For your 60s event decor, stock up tinted bulbs to provide the place a groovy glow. If you can get your hands on some strobe lights or lava lamps, you'll be able to create an immediate psychedelic vibe.
Remember that the '60s weren't just about peace and love. They were also a celebration of modernist furniture, pop art, Vespa scooters and the British Invasion. So there are plenty of creative ways to decorate for this theme.  
Here is your 60s decoration  starter kit:
Love Beads

Lava Lamps

Incense

Daisies

Beatles Posters  and other famous 60s musicians/bands

Peace Sign Party Decorations

Woodstock Posters

Play Laugh In TV Show reruns on a screen

Tie-dye wall decals and tablecloths

VW Econoline Hippie Van stand-up or centerpieces for the tables

simple mod-style party decorations

Pop Art posters on the walls

British flags

Chinese lanterns

You could also go for Space Age including moons, rockets, and stars
60s Costume
Everyone's favorite part of a party is the costumes! Make your '60s event come alive by modeling your look after famous icons from the 60s fashion era.
60s Outfit Starter Kit:
You can create  Hippie costume by gathering a pair of bell bottoms, a vividly colored shirt with a fringed vest over-top, headbands, and crazy large sunglasses
Go for a "Mad Men" look complete with suit and tie and hat.
For your hippie look, you can go for bell bottoms, old rock band T-shirts, fringed vests, headbands, sunglasses and of course,  the platform shoes.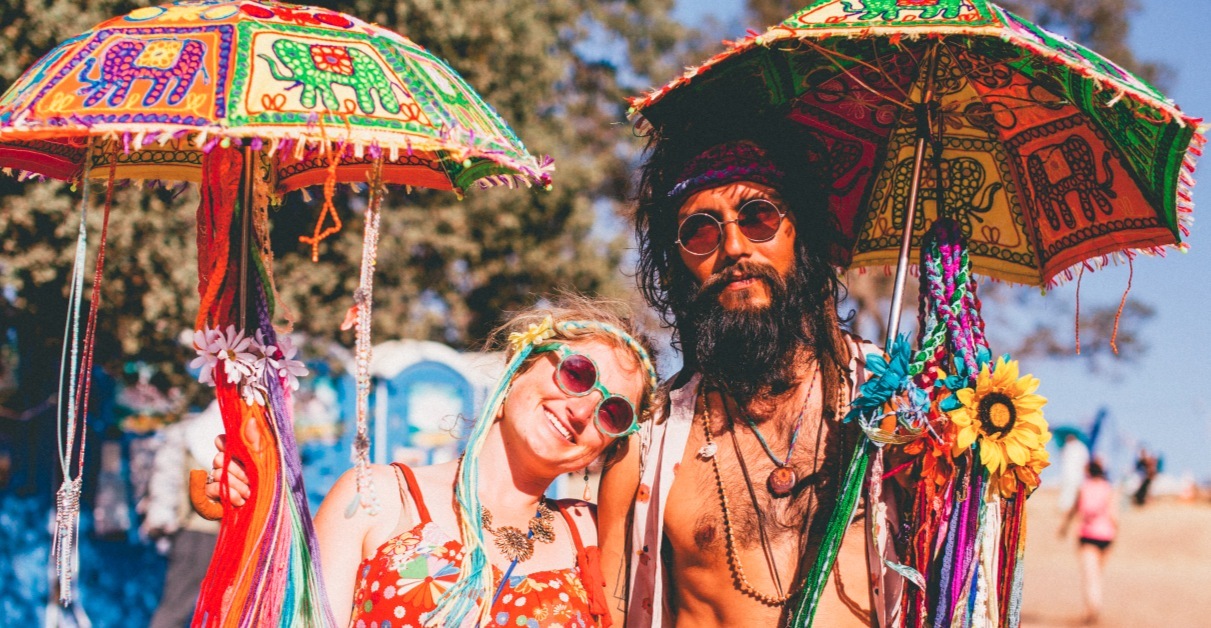 Credits to Collective Evolution
If all else fails, take a long-haired wig and slap on a ratty T-shirt and ripped jeans…INSTANT HIPPIE!
You don't have to revive a specific '60s icon to play dress up! For a general '60s fashion, look for any of the following fun clothing and accessories:
60s Food
This decade was the start of the health food craze.   Hippies also usually love greens, so various salads will be perfect party food. For your ultimate 1960s themed event have easy-to-serve dishes like :
The 60s flavor in one picture.

For an enjoyable dessert, have round sugar cookies. Get creative and use icing to draw a peace sign or yellow smiley face on every cookie. Dessert ideas include:
60s Drinks
For the cocktails, you can go with beer and wine, but you can also include cognac, martinis, etc.
For a non-alcoholic alternative, stock up on Gatorade, Cola, and Slurpees!
60s Music
Music is a key element to any 1960s themed event since the decade featured numerous well-known anthems and rallying cries for a generation.
In this era, new revolutionary music arrived, including The Beatles, The Rolling Stones, The Who and The Kinks, Motown bands like The Supremes and The Temptations,  North American rock musicians like Bob Dylan, Jimi Hendrix, Janis Joplin, and The Mamas and the Papas shouldn't be left out either. There is absolutely something for everyone!
60s Event Ideas
Dancing was the "it" thing to do in the '60s. So push those couches against the wall and make room for a dance floor. Popular dances from the '60s almost always begin with the word "the" — The Twist, The Pony, The Bird, The Mashed Potato, The Watusi, The Ska, The Monkey, The Tighten Up. Buy instructional dance videos and play it in the background so guests can copy the steps.
Nothing speaks "peace, love, and understanding" quite like a vividly colored flower or peace sign on the cheek. Face painting is a joyful way for people to get in the spirit of the '60s. Look for an all-inclusive kit that includes washable, non-toxic paints made for the skin, many brushes and different kinds of stencils. Be sure to have plenty of paper towels on hand for easy clean-up.
At the end of the event, your guests will go home remembering how your party was groovy!  
Make memories that last forever by making events people love.
Like what Austin Powers always says, " Yeah, baby!"
Life is a celebration sing and dance with her :).
#Youcanevent #wecanevent
Antonio
---
Also published on Medium.
Related
Antonio Trincao
Who knows Antonio, knows what is the special characteristic of him. Entertainment. A serial entrepreneur since 15 years old, working in the event and entertainment industry for almost 10 years. From catering services to bartending, night life clubs, summer club management, Antonio haves a deep knowledge of the events industry. Also, belongs to a non-profit organization called Azeituna (www.azeituna.pt), where we ran as a Shows Director along with his co-founder, for more than 5 years. Together they did shows in theaters all over the world, gathering almost 1,000,000 people. The most impressive accomplishment was a music performance done for more than 150,000 people as musicians on Azeituna, in one of the biggest European capitals, Lisbon. The way that he categorizes himself. " (...)If you want something that you never had, you've to do something that you never done.(...)' Musician, Sports Addict, Philanthropist, Organic & Healthy Foods, Design, 80's groove, Events and Entertainment passionate. Since February 2015, Antonio signed his mental and physical "commitment contract" to build the first wold wide events and entertainment brand called Youcanevent. Youcanevent, Inc. is a company headquartered in San Francisco, California, and has a remarkable growth from being a company self-funded by Antonio and his Co-founder Joao Raminhos, with brands working with Youcanevent.com like Microsoft, Primark, Mary Kay, Pipedrive and much more. The vision is to gather the world through the celebration, creating The World Wide Celebration brand. I can event, We can event, Youcanevent.
Related posts